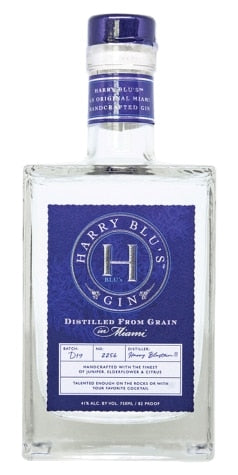 HARRY BLU'S® Miami Gin
** This is a Pre-Sale**
Products will not be shipped for 1-2 weeks after placing an order. 
Awards:
- DOUBLE GOLD, SIP Awards, 2021
"Impactful floral aroma with a pleasant citrus finish on the palate. A grand gin to be enjoyed neat, on the rocks or as a traditional Gin & Tonic," commented, Gerardo - Botanico Co-Owner.
- GOLD, PR%F Awards, 2021
- DOUBLE GOLD, The Fifty Best, 2023
 Size: 750ml
Proof: 82 (41% ALC/VOL)
Origin: Miami, Florida
Distillery: Harry Blu's Distillery