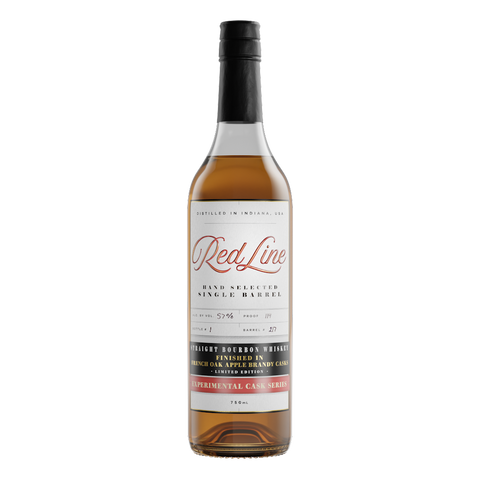 Red Line Experimental Cask Series Finished in French Oak Apple Brandy Casks
Introducing Red Line Whiskey Company's Apple Brandy Cask Finished Bourbon, the latest and most enticing addition to our Experimental Cask Series. Crafted with precision and aged to perfection, this bourbon is a harmonious fusion of traditional bourbon and the rich, nuanced influence of apple brandy casks.
For six years, this bourbon aged in traditional white oak barrels, allowing it to develop a classic character with notes of caramel, vanilla, and oak that are synonymous with the finest bourbons. However, it is in the final 13 months that this bourbon's journey takes a captivating twist.
During this transformative period, our bourbon is gracefully transferred to ex-apple brandy casks. These casks, previously used to house the exquisite elixir of apple brandy, impart a unique character to our bourbon. The marriage of our bourbon with these casks infuses it with a symphony of flavors.
With the sweetness of apple brandy playing in harmony with the oakiness of the bourbon, you'll discover a delightful medley of apple, baked goods, and warm spices. Hints of cinnamon and nutmeg dance on your palate, providing an enchanting contrast to the deep, rich caramel notes. The result is a bourbon that's elegant, complex, and truly exceptional.
Red Line Whiskey Company's Apple Brandy Cask Finished Bourbon is the embodiment of our relentless pursuit of whiskey perfection. We invite you to savor this limited release and experience the art of cask finishing at its finest. Each bottle represents a fusion of innovation and tradition, a testament to the craftsmanship that defines our legacy.
Size: 750ML
Age: Min 6-Years
Proof: 113 Proof (56.5% ALC/VOL)
Distillation: Indiana
Finish: French Oak Ex Apple Brandy Casks
Finishing Time: 13 Months