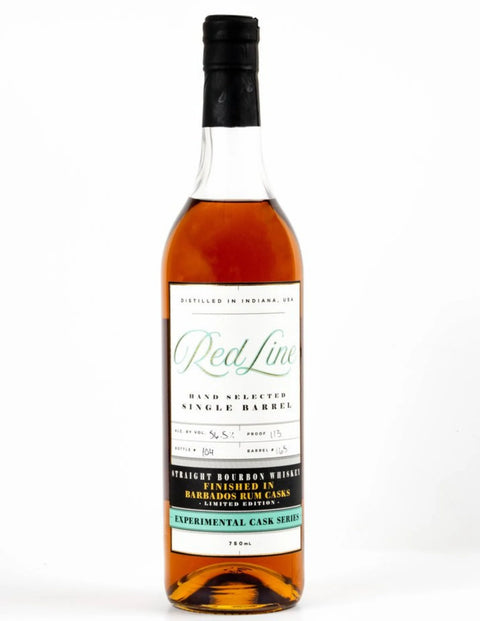 Red Line Single Barrel Barbados Rum Experimental Cask Series
Barbados Rum Cask Finished Bourbon Whiskey is a premium bourbon that offers a unique and exotic flavor profile. This bourbon is carefully crafted using the finest ingredients and techniques to produce a rich and complex spirit that is sure to impress even the most discerning whiskey aficionados.
The bourbon is aged for a minimum of six years in charred oak barrels, imparting a smooth and mellow flavor. It is then transferred to ex Barbados rum casks for an additional period of maturation, allowing the whiskey to absorb the complex flavors and aromas of the rum.
On the nose, this bourbon offers an inviting aroma of caramel, vanilla, and oak, with hints of tropical fruit and spice. The palate is rich and complex, with flavors of brown sugar, toasted coconut, and spice, followed by a long and satisfying finish with notes of molasses and oak.
This premium bourbon whiskey is best enjoyed neat or on the rocks, allowing the full range of flavors to be appreciated. It also makes an excellent addition to classic whiskey cocktails, adding a depth of flavor and complexity.
With its unique finishing process in ex Barbados rum casks, Red Line Whiskey Company bourbon finished in ex Barbados rum casks is a standout addition to any whiskey collection or home bar.
Size: 750ML
Age: Min 6-Years
Proof: 113 Proof (56.5% ALC/VOL)
Distillation: Indiana
Mash Bill: 75% Corn, 21% Rye, 4% Malted Barley
Finish: Barbados Rum Casks
Finishing Time: 13 Months