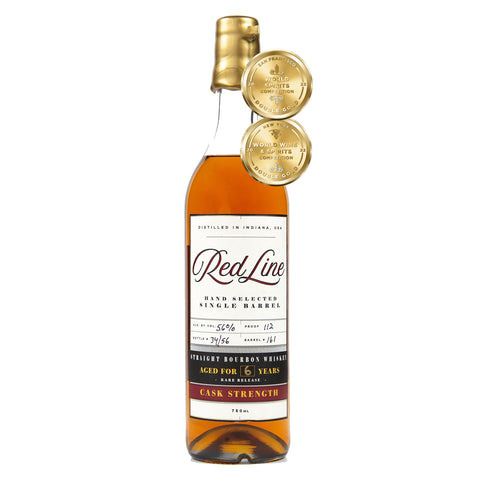 Red Line 6 Year Single Barrel Straight Bourbon Whiskey
Red Line Single Barrel Bourbon Whiskey is a truly special offering which is sometimes available at select retailers nationally. The barrels are selected through a tasting process in which our tasting panel scrutinizes samples of our top barrels. To pass the test these barrels must show the calling card characteristics of a superior Bourbon; balance, depth, and complexity.
The barrels that make the grade are set aside to be bottled at true cask strength. We do not cut our Single Barrel Bourbon to proof and it's never chill-filtered.  It is bottled just as it came out of the barrel. And that means the proof of every barrel is different. That's why every single bottle has the barrel number, proof, and bottle number written on the front label.
This high proof and attention to detail means that Red Line Single Barrel Bourbon always has a bold flavor that is best appreciated neat, on the rocks, with a splash of water, or in a well-made cocktail. The choice is yours on how you enjoy our cask strength bourbon, but rest assured that this is as close as you can get to straight from the barrel without pulling a thief full out yourself.
Awards:
- Double Gold, 2022 New York World Wine & Spirits Competition 
- 92 Score, Whisky Advocate 
- Double Gold, 2023 San Francisco World Spirits Competition
Size: 750ML
Age: 6 Years (Stated)
Proof: Varies by barrel, all are bottled at cask strength
Distillation: Indiana
Mash Bill: 75% Corn, 21% Rye, 4% Barley Malt