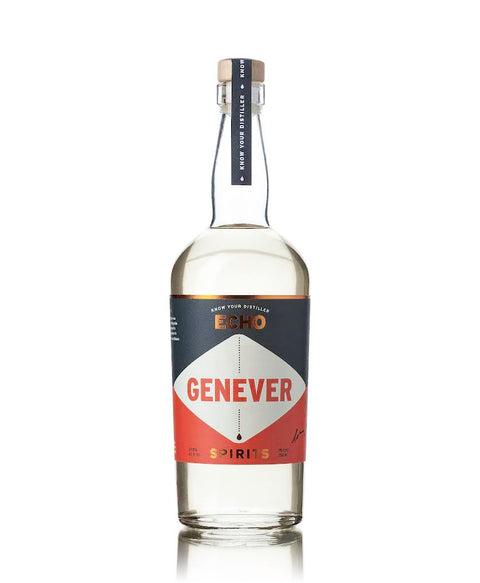 Echo Spirits Distilling Co. Genever
** $15 Flat-rate shipping on all orders 3 bottles or more!
Genever is a malt whiskey enhanced with botanicals. Instead of starting with a neutral spirit like vodka and infusing it with botanicals to make gin, we make a flavor-rich whiskey and add herbs, roots, and other botanicals. Unlike gin, which is predominantly spiced with juniper berries, genever is more balanced, using many ingredients to make a complex spirit.
Popular in the pre-Prohibition United States, genever was imported from western Europe 4:1 over its younger cousin, gin, and was the spirit used to develop most cocktails that we now make with that relative, like the Tom Collins or even the Martini.

Extremely flexible, it can stand as a replacement for gin, whiskey, and even tequila in many cocktails. Echo Spirits Genever is very approachable and will appeal to drinkers of its cousin spirits.
As with any natural infusion that has not been overly and excessively filtered, some sediment may appear over time and is completely normal. Give your bottle a shake or simply pour off the top, leaving the sediment on the bottom. 
Tasting Notes: 

Cereal Grains, Dill, Caraway
Awards:
- SILVER MEDAL, John Barleycorn Awards, 2020
"Big bold nose of botanical energy, with flavors of earthy clay and ripe stone fruits and an underlying hint of tang that make this fun to roll around in the mouth."
- BRONZE MEDAL, Berlin International Spirits Competition, 2021
- SILVER MEDAL, San Francisco World Spirits Competition, 2022
Size: 750ml
Proof: 75 (37.5% ALC/VOL)
Origin: Ohio
Distillery: Echo Spirits Distilling Co.